So this weekend over at
Shimelle's
blog she was a bunch of scrapbooking challenges. I really wanted to do some this weekend. Lo and behold they inspired me and I became creative and super scrappy. This is good because for the past week I was in a creative rut. I would think about ideas in my head and then when I sat down to the kitchen table I could not seem to transfer it to paper. The challenges gave me a direction to go and some cool stuff came out of it. I am still working on them and probably will through out the coming week. I am just excited that I got my scrappyness back!
I am going to post the challenges separately so you can visit Shimelle's site and see how they all relate to her challenges.
For
challenge one
we were to scrap lift a page. Which basically means copy it, but make it your own. Below is the page from
Jamie
that we were using to scrap lift from.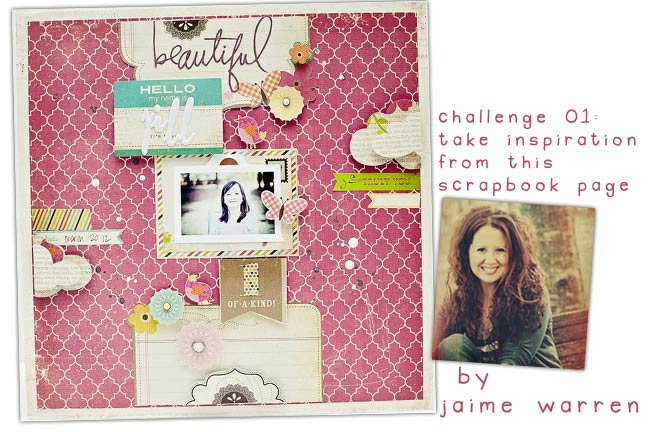 Here is my scrap lift:
Scrapping gone wrong! Kidding. I was trying to experiment on where to take the pictures of my creations I was wondering would the harsher kitchen light be better or the more subtle light over the kitchen table. I took these pictures Friday evening, so there was natural light coming in from the sliding glass door to the kitchen table. I took the picture above on the kitchen floor. As you can see, my blue heeler Jackson wanted to see what was going on. Actually, this is a pretty cool picture of him. Normally he runs in fear of the camera.
So here is the kitchen floor picture, minus my dog. I added a little journaling spot, but the journaling might expand beyond that. I think I kept a journal during that trip or least wrote some observations down, so I want to take a look at those first. Below are the inspiration points that I took from the
original layout
:
Inspiration Points:
general layout of page
small picture
washi tape
2 elements at the top & bottom
scattered embellishments (mine turned out more clustered)